In a recent update to DataTrace System (DTS), three enhancements - Order History Export, changes to Global Print, and Combined Classic and Enhanced Name Searches, were added to help make your title research and production more thorough and efficient.
New Order History Export:
Users can now select reports and images from the Order History screen to create an order package for export in PDF format.
Select one or more reports/images to be included with order package

Click on create PDF button to create order package

Use up/down arrows to sort reports/images into desired order

Choose Delivery type


Note:

TIF and Print options will be added in a future release

Click on Submit to export order package

Use default file location, or click on browse button to change location




Note:

Default file location will be the same location as History Panel export location. Any changes to Order History/History Panel export will update default for both.

Use default file name, or click in box to manually key desired file name

Click on Save button to export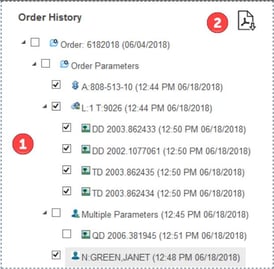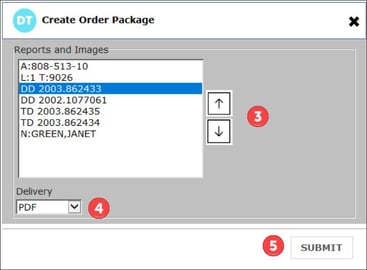 Global Print Changes:
In order to prevent duplicate prints, the print options have been updated for order and investigative searches.


Batch printing is when a user prints from the search input screen without clicking on the Submit button.
F5/print icon will print only items in the search list
If performing batch print with an order # and a folder with the same order # present in the History Panel, Ctrl+F5 will print everything in the search list and reprint everything in the corresponding order folder.
Combined Enhanced and Classic Name Searches:
Enhanced Name and Classic Name searches can now be included in the same order.
Add Enhanced Name search to an existing order containing a Classic Name search
Mix Enhanced Name and Classic Name searches in the same search list

Filter tool is only available for Enhanced Names


*Date downs will not be impacted by having Enhanced and Classic Name searches in the same orders.

If you have any questions, please contact DataTrace Client Support at 800.221.2056 or CustomerSuccess@datatracetitle.com.