Important Action Required:
Clients who whitelist IP ranges to outbound DataTrace external facing applications
DataTrace continues to enhance our security framework by deploying a comprehensive defense strategy for the protection of our company and client's assets. To support an additional layer of protection against cyber security attacks, DataTrace will be modifying the Web Application Firewall (WAF) for the below Applications/URLs.
To avoid any disruption with our products and services, the following changes must be made to your company's integration and configuration settings by Saturday, March 6.
Effective on Saturday, March 6, 2021, DataTrace will be modifying the WAF for the following Applications/URLs & IP Addresses. *Expected downtime for this update is Saturday, March 6, 12:00 AM – Sunday, March 7, 5:00 PM PST.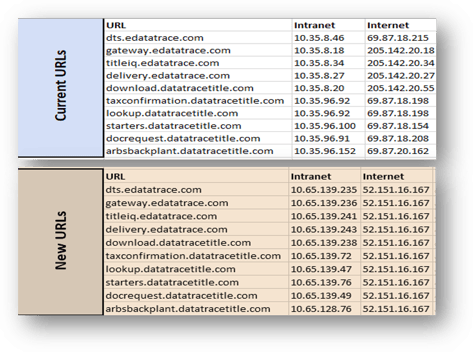 We appreciate your prompt attention to this change and recognize that this may cause an inconvenience for some customers. However, it is essential that we continue to protect the data assets with modern and enhanced technology.
Our client support and IT teams are available to assist with any questions or concerns. We can be reached at customersuccess@datatracetitle.com or 800-221-2056.