NEW FEATURE - ORDER MANAGEMENT
DataTrace System (DTS) recently combined Display/Maintain Order and Close/Cancel Order into a new feature – Order Management increasing productivity and giving users a centralized location for all orders.
Order Management Global Service
Users now have the ability to manage all orders from a centralized location with Order Management, which is accessible via the global tool bar on the top left-hand side of the screen.

Order List Search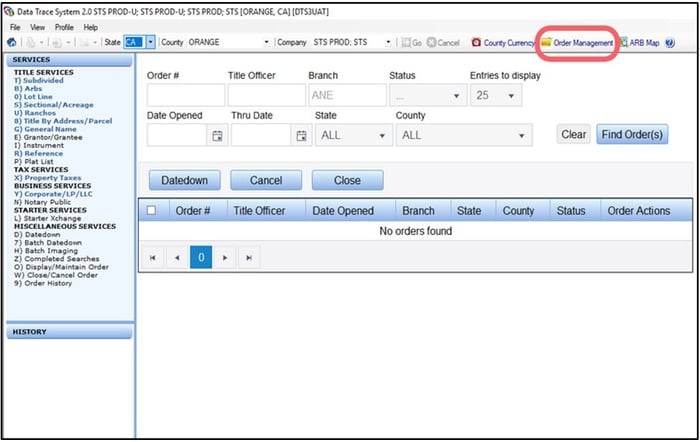 Order Management is a global service (not county specific)
1. Click on Order Management button to launch service
2. Search for one or more prior orders
Order #

searches for any orders that start with the alpha/numeric characters in the same order listed.

Title Officer

(TO) searches for orders with the entered TO associated with them.

Branch

searches for all orders for an associated branch. It is automatically set to login to a user's branch. This field requires one of the other search fields to be populated.

Order Status

limits search to selected order status (Open, Closed, Canceled) or a user has the ability to return all order types.
Entries to display is not a search field, but controls the maximum entries to display on the screen. When an order list exceeds maximum entries, use the pagination buttons to go to next set of entries.

Date Opened/Thru Date

searches for all orders within the specified date range.

State/County

searches for all orders in the specified state and county. Both of these fields must populated. State/County will only be populated with the counties a user has access to.


3. Click on Find Order(s) button to create an order list to manage an individual order or perform global functions for multiple orders.
After Find Order(s) button is selected, the order list will display all orders matching search criteria.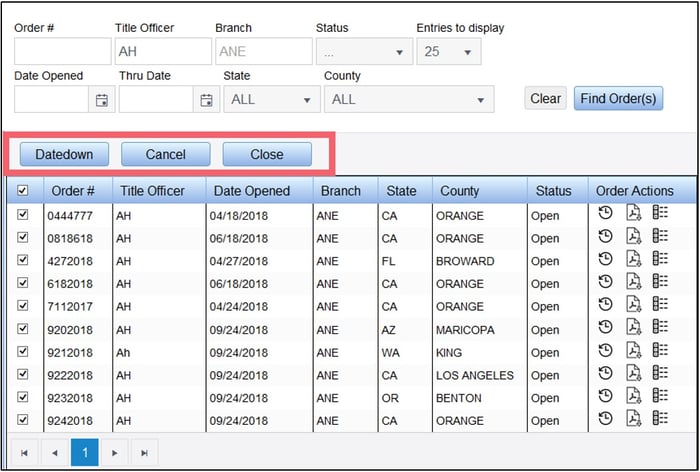 Global Buttons include Datedown, Cancel and Close. These buttons can be used for one or more selected orders.
Datedown
Select orders to Datedown (check box in blue header selects all orders displayed).

Click on Datedown button.

Datedown links for all orders will be sent to History Panel.

Datedown links appear in the History Panel in the same order as the Order List.



Cancel
Click on Cancel button.

Confirmation popup will display requiring user to confirm action.

Order Status will be changed to Canceled for selected orders.




Close
Select orders to Close.

Click on Close button.

Confirmation popup will display requiring user to confirm action.

Order Status will be changed to Closed for selected orders.

Order Action buttons are available for selected order (highlighted order), only one order can be selected at a time. Click on action button to perform its function.

Order History allows a user to
Download one or more reports/images to history panel to continue work or utilize the email, export, print functions from the History Panel.

Create order package containing selected reports/images sorted in desired order. This creates a PDF to be saved to the desktop or to be printed.
Export Order allows a user to
Set file location to download a PDF of reports/images.

Determine file name for exported PDF.
Order Details allows a user to view and update options for each parameter associated with the order.
If you have any questions, please contact DataTrace Client Support at 800.221.2056 or CustomerSuccess@datatracetitle.com.