TaxSource
TaxSource provides an on-demand, comprehensive tax status report with national coverage. The report provides real-time tax status on a property including essential assessor, tax agency and tax bill information in a standardized format across the country. Our TaxSource platform performs a quality validation check on every order to confirm data currency and completeness of required tax fields. Any order that does not pass the validation process is reviewed by a tax specialist to ensure the accuracy and quality of the data. TaxSource delivers the reliable results needed for your tax reporting needs.
Comprehensive tax record includes:
Assessed Values/Exemptions
Tax Agency Requirements (address, due dates, payment information)
Current Year Bill Detail (base tax, balance due and payment status)
Prior Year Delinquency Records with payoff amounts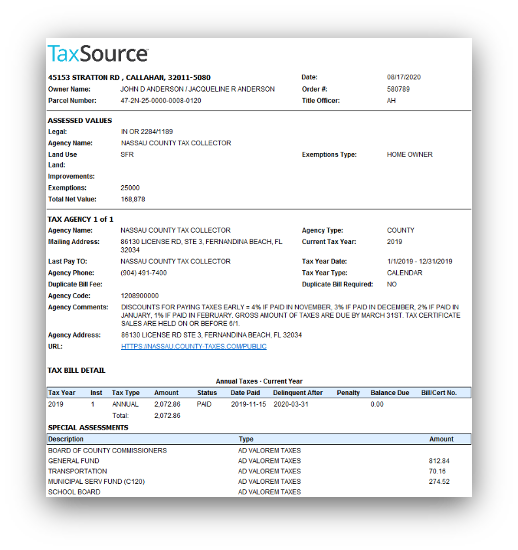 Why is this important?
When title companies need transactional tax data to make informed decisions, they cannot wait days, weeks or months for the next cyclical tax report. TaxSource provides the on-demand access they need with a snapshot-in-time on the currency of tax payments for a subject property.