DTS title results now include the most current, accurate Assessor Information to expedite property and ownership verification – including APN, address, current owner, partial legal description, tax rate area and land use information – directly on the title chain.
Now you can quickly view the chain of title and verify the property information – in one step – by searching title directly in DTS.
Why This Is Important
Assessor information supplied via the Property Tax search in DTS, especially in static tax counties, can be dated (often up to one year or more from current date). As a result, using this data to verify ownership for a property that has changed ownership between updates would potentially provide incorrect owner or not reflecting recently subdivided property. Users need the most up-to-date assessor information to fully validate their owner/property information.
How to Access
Users can access the new title results by searching title directly (Subdivision, Arb, Sectional), by using the Title By Address/Parcel service, or by using the Tax to Title cross reference from Property Tax search.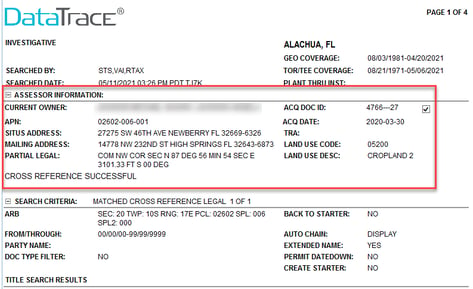 The new title stylesheet is only available for property searches described above; name searches will still have the existing stylesheet.
*Watch a new brief Learn DTS In-Minute-Video on this new feature*

Our client support and IT teams are available to assist with any questions or concerns. We can be reached at customersuccess@datatracetitle.com or 800-221-2056.